An Interview with Ludmila Koliago
by Anna Thibeault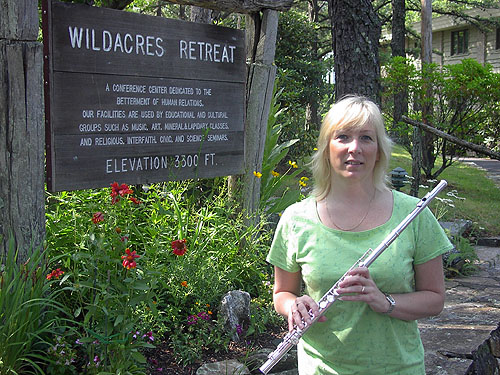 While living in London in the early 90's, my husband and I took a group of school children to Russia during the Easter break. That was in the Soviet days so we had an "authorized" Intourist guide throughout our stay. One day as we were touring Leningrad, I told our guide that I would love to meet a Russian flute player. It so happened that her husband's friend's wife was a professional flutist, so after some phone calls, Ludmila Koliago, was introduced to us. Ludmila spoke very little English, but my husband, fluent in Russian, served as translator.
From the beginning we clicked. Ludmila arranged for us to go to many concerts, opera and ballet performances. We hosted her and her family to visit us in England and we have stayed with her as private guests in St. Petersburg many times. They now consider us part of their tribe. But that's another story.
Over the years we have talked about our development as flutists and I think it is very interesting to discover how Russian train their musicians. Below is the story of how my friend, Ludmila Koliago, became a flutist.
AT - How old were you when you started the flute?
LK - Well, I was 7 years old, except I was too small for the flute so I started on the piccolo. My kindergarten teacher suggested to my parents that I should play an instrument and I liked the sound of the flute.
AT - Were your parents musical?
LK - Nobody in my family played an instrument. They probably were but didn't get the opportunity to find out. My mother loves to sing.
AT - So you started piccolo lessons at school?
LK - Not in our regular school. We had no music there, except class singing. In Russia there are special music schools which you attend after regular school hours.
AT - Was it hard to get in to this music school?
LK - They asked me to sing a song that had just been played, clap back a rhythm and tell them how many notes were in a chord. We had, besides private lessons on our instrument and the piano, group lessons in solfeggio, harmony, literature, and choir. We were there for 3 or 4 hours a day, four days a week.
AT - Wow! I guess that if you wanted to play and instrument, you had to be very serious about it. No half effort accepted. What kind of an instrument did you have?
LK - I don't remember what the piccolo was, but my first flute was made in a Leningrad factory and was terrible. The music school rented it to us for a very small fee. When I got to high school we bought an East German flute. It was yellow metal and I called it "my cigar." All my instruments were open g# and the B natural and B flat keys are reversed to what you have.
AT - So what were you private flute lessons like?
LK - My teacher was rather severe. Technique was emphasized and all solos had to memorized. Interpretation was dictated down to the very small details. You played your pieces just exactly as your teacher did.
AT - You decided that music was for you. How difficult was it for you to get into music college?
LK - Are you speaking about the Musical Institute or the Moscow Conservatory?
AT - I think I am confused. What is the Musical Institute?
LK - It is after high school but before conservatory. You can stay in high school until grade 9 or to grade 11. I left the high school at grade 9 at the age of 15 and spent four years at the Musical Institute. We studied mainstream subjects - history, math, languages - but there was an emphasis on music. I graduated from the Musical Institute at the age of 19.
AT - So how difficult was it to get into the Moscow Conservatory?
LK My teacher knew the system and played it well. There were four of us to wanted to study music at the conservatory level. He knew that, if he sent us all to one place, some of us would get in and some wouldn't. He had each one of us audition at a different conservatory. I got into the Moscow Conservatory, and the others got into other places. We all made it. At the Moscow Conservatory fifteen flute players applied and three were accepted.
AT - What was your audition like?
LK - I played my solos - from memory - and took tests in solfeggio, harmony, music history and literature.
AT - Who was your teacher and what was he like?
LK - His name was Uliy Grigorevich Yagudian He was in his 70's and played in the Bolshoi Theater Orchestra. He was kindly and nice and his teaching style allowed me to have a say in the interpretation of the music I was learning. I practiced 3 to 4 hours every day for the five years I was there. He allowed freedom but demanded work.
AT - Was it very expensive for your parents to put you through a five year course while living in Moscow?
LK - Once you got in, tuition was free and they gave you a stipend on which to live - frugally. I ate a lot of kasha and sausage. My parents helped me with extra money and care packages of food.
AT - Besides flute lessons, what else did you study at the Moscow Conservatory?
LK - Harmony, solfege, piano, music history, orchestral playing, music literature and Communism.
AT - Communism?
LK - Yes, Communism. We had to learn the history of The Communist Party and write essays on it. We even had lessons in "dialectical materialism", which is training your mind to think as a communist. It wasn't enough to be a good musician; you had to be a good "communist" musician. We were encouraged to become members of the Party. Those who did, tended to get very good playing assignments upon graduation.
AT - Did you join?
LK - No.
AT - At the time you were at the Moscow Conservatory in the early 80s, goods were in short supply. How did you get your music?
LK - We mostly hand copied our teacher's music. Sometimes we tried to take dictation from a recording, but that was very hard. When our teachers went on tour, they often ate cheaply and saved their per diem to buy music. That was the only way we could get hold of music, except for East German and Hungarian editions which were always available.
AT - Were you aware of flutists outside Russia?
LK - Rampal played a concert in Leningrad. We loved his playing, but that about it as far as exposure to foreign flutists. Later there were some cassettes of James Galway's playing, which were wonderful.
AT - What were flute exams at the Moscow Conservatory like?
LK - Solos were played from memory. We could have the music for the etudes, At the half year, our exams were open to the public, but it was teachers only at the end of each year.
AT - Were there good friendships between the flute students?
LK - Not at all. The cut-throat competition didn't really make that possible.
AT - Coming back to Leningrad with a diploma from the Moscow Conservatory must have put you in great demand as a flutist in your home town of Leningrad.
LK - Ha! Ha! There was a perceived difference by the musical administrators in style between flutists trained in Moscow and those trained in Leningrad and I was now a "foreigner," flutewise. I did get a job teaching in a music school. The other flute teacher there also played in the Zazerkalye Theater Orchestra. She went to Germany and I subbed for her as Principal Flute. She stayed in Germany and I got the job permanently. The conductor liked my playing and wasn't concerned where I had received my training. I also was asked to play one season in the Mali Theater, subbing for a flutist on maternity leave. That got my name around and led to more work.
AT - What other playing work do you do?
LK - I have done five tours to Germany with the Petropol woodwind quintet, and often play solos at the Yusupov Palace. I now do quite a lot of work with the St. Petersburg Quartet, which is made up of piano, flute, cello and voice.
AT - Are you still playing your East German "cigar" flute?
LK - No, thank goodness for that. I was able to buy a Prima Sankyo, which I love very much. It makes playing the flute so much easier and satisfying. Not having to fight the instrument at every turn.
AT - What about the open G# and reverse Bs?
LK - I had it converted. I've spent too much time practicing that system to change.
AT - You have had a chance for much foreign travel.
LK - Through flute playing I've been to Germany, France, Spain, England, Finland, and now America to the Wildacres Flute Retreat.
AT - Do you have residential masterclasses in Russia?
LK - No, we don't. Occasionally there will be one day classes by visiting flutists, but nothing like this.
AT - What do you find most interesting about being at Wildacres?
LK - Everything, especially the friendliness of everyone and kindness to each other. I never experienced that among flutists before. I never played in a flute choir before. I have never seen a curved head before. All the music and accessories from Flute World are incredible. There are all ages and all levels of flute players here and they all get along. And it is so beautiful. I love trees and mountains and sitting on the porches talking to all these lovely people, trying to improve my English.
AT - What about the masterclasses?
LK - Wonderful. I love Stephen Preston's classes. I have a totally new perspective on playing Baroque music now. Both he and Amara are great players. If I am able to return to Wildacres, I would like to take Amara's traverso class and learn how to play it. Göran Marcusson gives you ideas but you still have freedom. He draws a picture and you put in the colors. He is so funny, yet serious, and gets the best from everyone.
AT - Are there basic differences between American and Russian flutists?
LK - I think that American flutists play with more refinement and sensitivity, but Russians are more passionate and expressive. I think this is true for musicians in general, not just flutists.
AT - What do you think is the best thing about being a flute player?
LK - Not having to do a boring job, always looking forward to something new, being able to travel and see interesting things and meet people with different experiences, and getting paid to make music.

Back to the Main Page